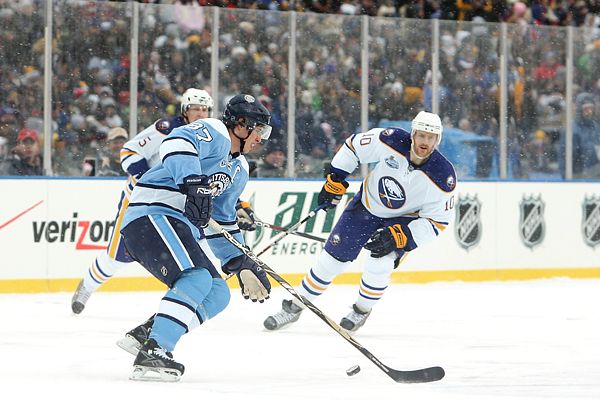 Although an official announcement has not yet been made by the NHL, it appears that the Red Wings and the Chicago Blackhawks will face off January 1st, 2009 at Wrigley Field. This will be the NHL's third "Winter Classic" outdoor game. On New Year's Day of this year the Pittsburgh Penguins and the Buffalo Sabres played in front of an NHL-record crowd of 71,217 (pictured above). The Montreal Canadiens and the Edmonton Oilers played in the first NHL outdoor game in 2003, which was also notable for having a -22°F wind chill.
Red Wings fans will have to hope that the game, which will take place in the afternoon, doesn't conflict with either the Michigan or Michigan State bowl games next season. Luckily for State fans, the Motor City Bowl is scheduled for December 26th this year, so that should not be an issue.
Regardless of college football affiliation, Detroit sports fans should be excited for the prospect of the Wings taking part in such an historical event. If any team deserves to be showcased in what will almost certainly be the most-watched regular season hockey game of the year, it's the reigning Stanley Cup Champions.
Outdoor game looks to be set (Detroit News)