(Webstarr)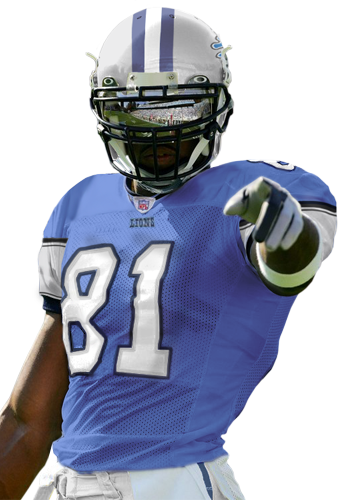 Calvin Johnson is coming for you...
So I had the honor of attending the Lions first preseason game against the Giants last night.We won 13-10. Here are some thoughts.
First, preseason games are whack. Nobody seems to really care what's going on, yet parking prices remain the same. My friend and I parked in some shady alley several blocks from Ford Field, and still had to pay $15. If my ticket hadn't been free, I really would've regretted driving all the way out to the D to see our starters play two drives.
Speaking of those two drives. 
Good news: our passing attack looked legit. Calvin was by far the go-to guy, making 4 catches for 78 yards. I was keeping a close eye on him, and I could tell he is serious about getting the ball. He didn't just run downfield, but ran some solid routes and really earned the ball each time he got it. I could tell Kitna was looking for him, and that makes me happy. Also, on 3rd and 2 we threw him a fade for a first down. Yes.
Bad news: our rushing attack looked... non-existent. We tried to run the ball, but Tatum Bell and Kevin Smith combined for a mere 30 yards on 15 combined carries. It seemed like whatever we ran, there was nowhere for our runningback to go. We run a lot of those stretch type plays where the line shifts to one side or the other and the back has to make a decision to try to get outside or cut up field. Maybe it was because the Giants have a lot of talent on their D-line and in their linebacking corps, but they were eating those plays up. Although Bell started, Kevin Smith appears to be our guy. Despite his numbers, he made confident cuts, and the fans really seemed to have taken a liking to him.
Defensively we looked strong, stopping the Giants on their first few possessions. Dwayne White was a real disruptor, making his presence known on a few key plays including a PBU on third down that forced the Giants to punt. My boy Ernie Sims DNP due to his knee injury, but all reports indicate that he is healthy and his absence in the game was a precautionary measure. Also, Leigh Bodden was announced as a starter but never came out of the tunnel. Weird. Dwight Smith is a professional, and has experience in the Tampa-2 defense, and I think he will be a huge contributor to our defense. 
Some bench players of note. Our favorite barfighter Gosder Cherilus committed three penalties (the team as a whole had six). My initial reaction is to castrate Matt Millen for trading down to draft him, but we'll write it off to the rookie jitters this time. Also, my initial reaction is always to castrate Matt Millen so disregard. I already mentioned how Kevin Smith played well, but our quarterbacks did too. Orlovsky went 8/11 for 81 yards, and Stanton 5/6 for 27 with 6 rushes for 26. Stanton was our leading rusher. Although I hate Drew Stanton, who said the greatest moment of his football career was when MSU beat Michigan on the 3-2-1-1-1 play in 2001, (that was before Stanton was even in college, and the last time MSU beat Michigan), I am happy we have a guy who can get out of trouble with his feet. He might give Orlovsky a run for that back-up spot. 
Obviously, its hard to infer much about a team from watching its starters play less than a quarter. Nevertheless, if I took anything away from the game it was that we have the potential to win games. Calvin is going to be one of the best receivers in the game, and our passing attack seems dynamic and efficient. Knowing that we will always have the potential to move the ball down the field is comforting, although the lack of a rush game counters that somewhat. We looked active on defense, and really dominated the Giants starters for their time on the field. Remember, that was without our best defensive player (and one of the best linebackers in the league). I'm curious to see how the rest of the preseason works out, and who is still on the roster come the 53-man cut on August 30th.